It is only the farmer who faithfully plants seeds in the Spring, who reaps a harvest in the Autumn.                                                                                                                                                                ~  B. C. Forbes
I hope this finds you well and cautiously optimistic and hopeful as we start looking at 'live' art again for inspiration
I've been making art throughout the pandemic but the work has had a mind of its own influenced by the virus, and I had to yield to its voice. Thus the diverse group of paintings I made in '20-'21 is more about internal landscapes than the outside environment. But, since the human is comprised of the same elements as our planet we are intertwined and what affects us impacts everything and vise versa.
The Eclipse series of work I referenced in my previous News has made its debut in January at the Michael Warren Contemporary in Denver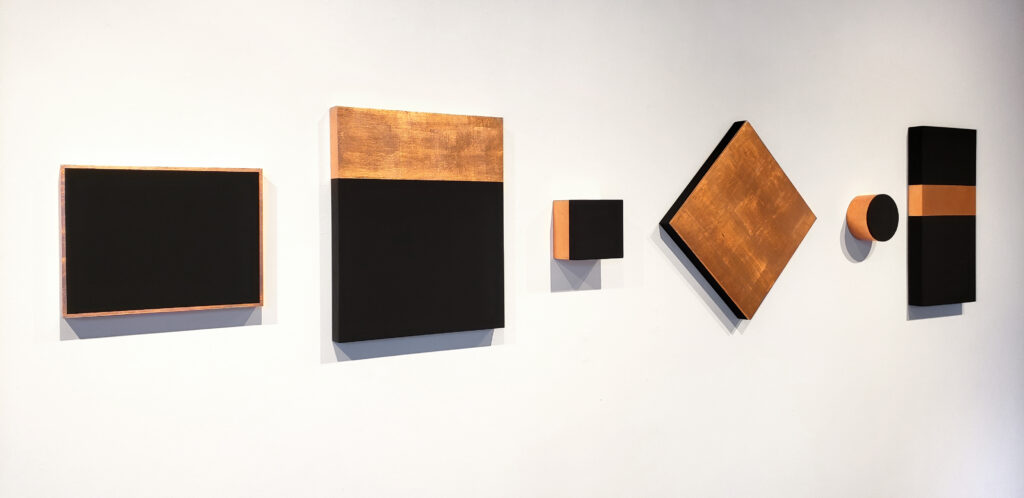 ---
Here is other new work:
REVEAL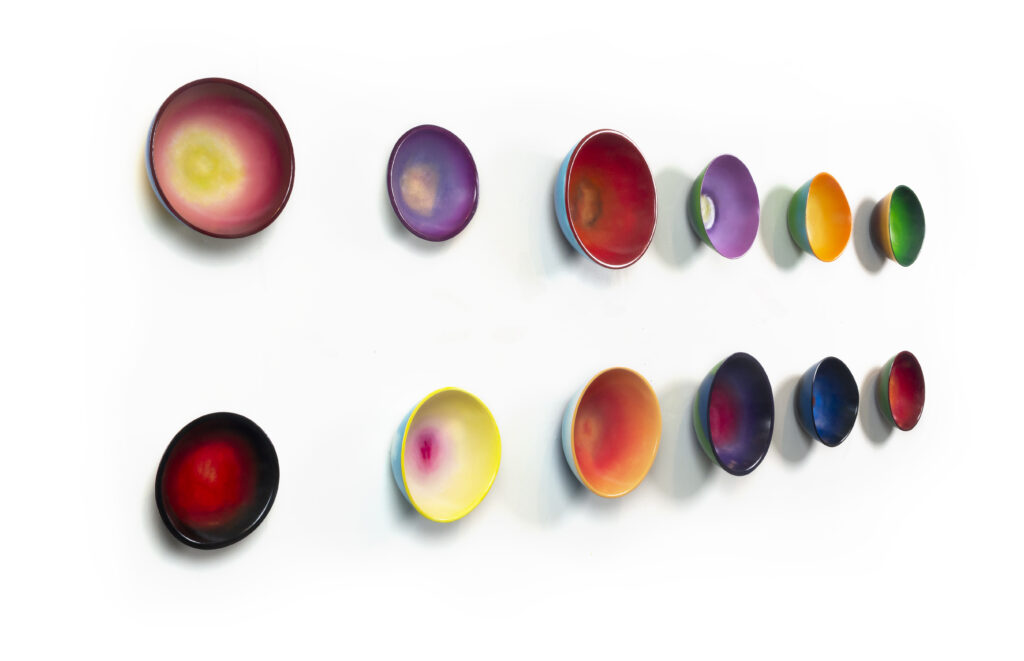 ---
This group of 16 paintings completed in 2020 called, Reveal (oil on unique wood forms) really led me a merry chase.
They demanded a variety of colors which led me veering from my original intentions by finding influence in the Covid-19 virus.
---
Reveal 
disclose, tell, let slip, let drop, give away,
blurt (out)
release, leak, make known,
make public, broadcast, publicize,
circulate, disseminate, let on, show, display, exhibit,
disclose, uncover, unveil, uncloak.
bring to light, uncover, lay bare,
excavate,
expose,
unearth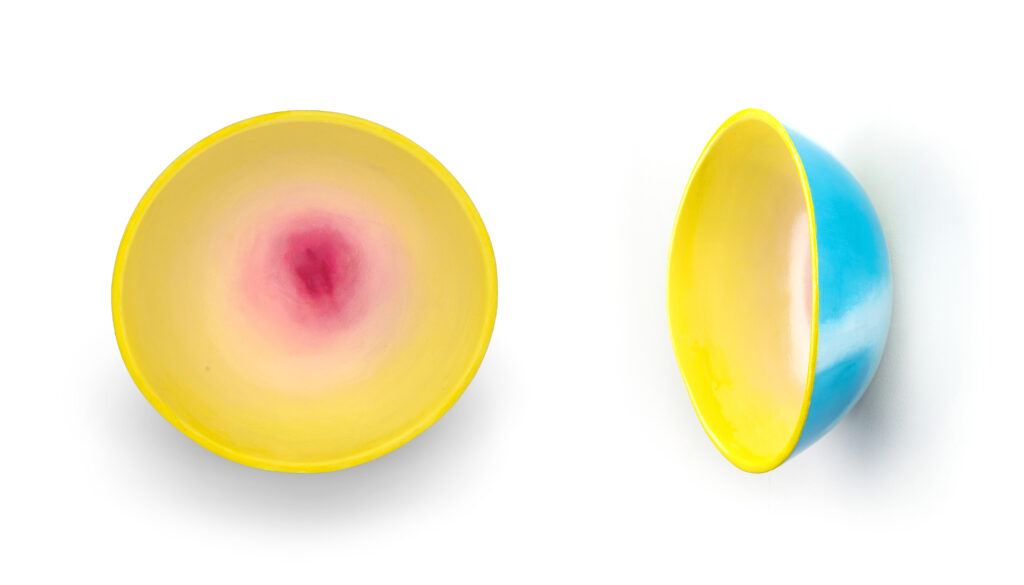 ---
Other Side of Numbness
January of 2021 brought some positive changes to our forecasts and I found that I could relax a smidge and express some of my frustrations and thus feel more grounded in doing so. This inspired a group of 12+ paintings 3 of which are are large 60″ x 60″ canvases, I call Other Side of Numbness.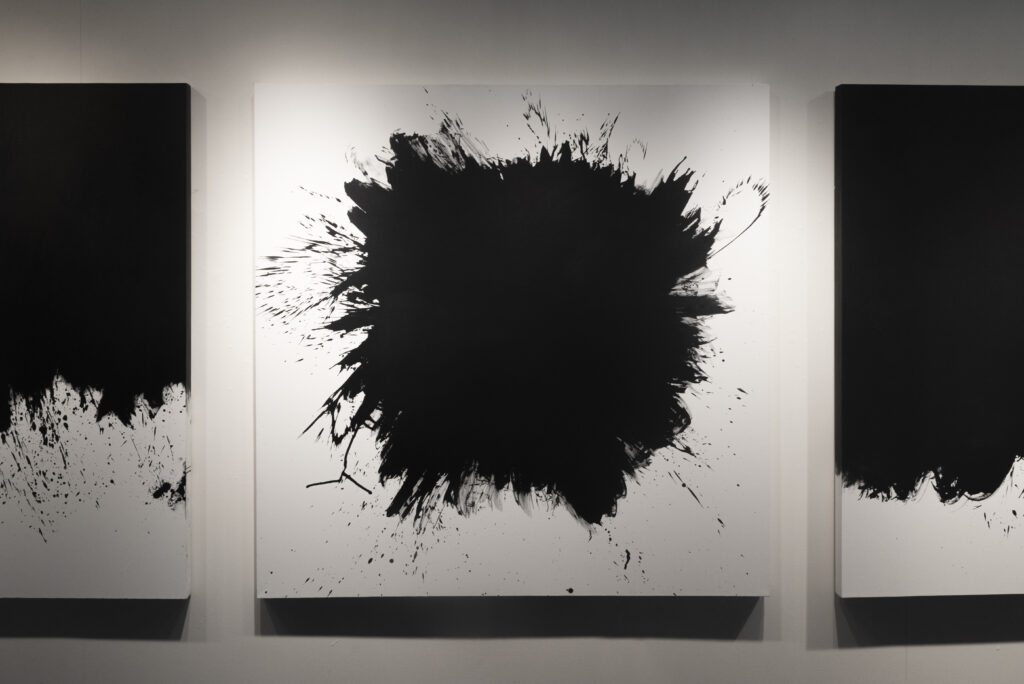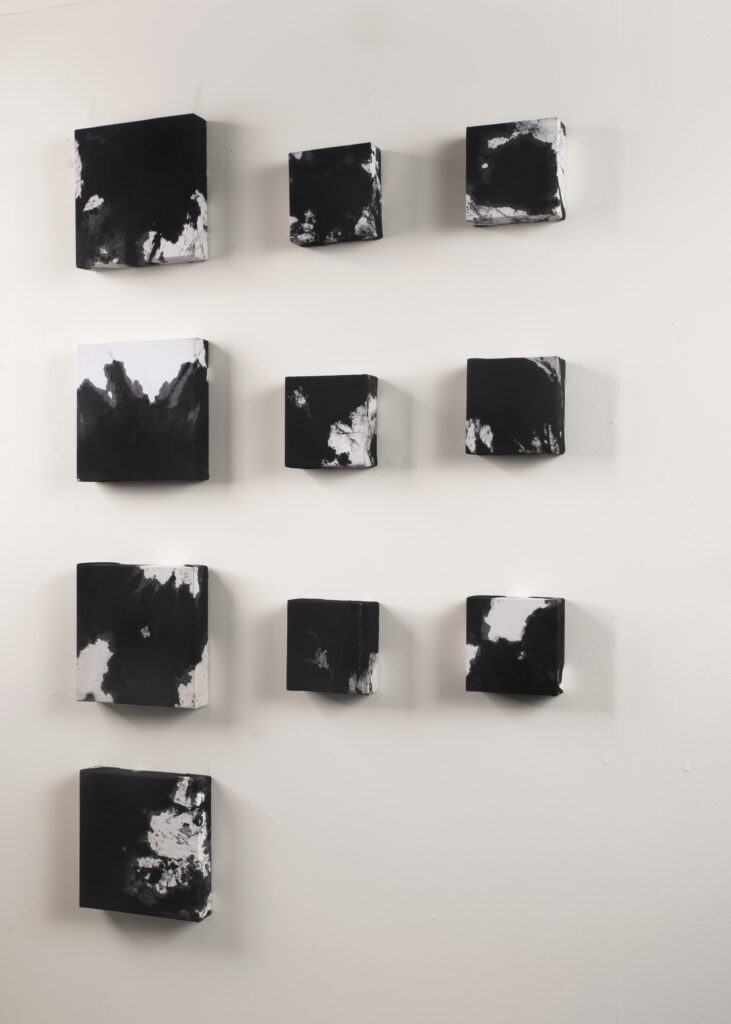 After so many restrictions and fears of Covid-19 something switched for me in these 2021 ink and gesso paintings. I threw off the chains of confinement and struck back. The transition was not planned–my mind did not control the hand. My heart knew I had to beat my fears into submission by letting the ink express the chaos and heaviness I felt. It was then that I started to settle and began to feel a new grounded-ness.These paintings reflect the internal landscape of the pandemic eon and also the 'other side of numbness'.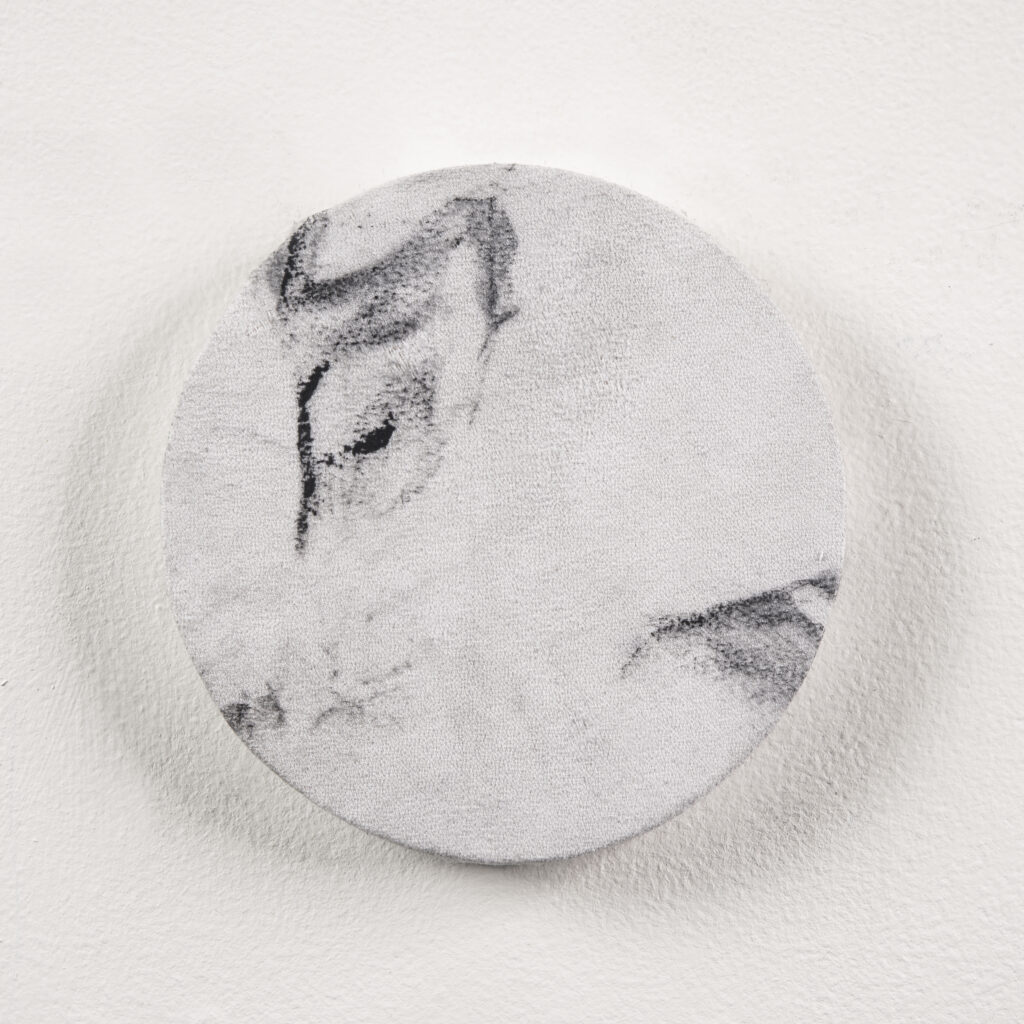 ---
Work on Paper
Some of my 'work on paper' that has been residing in my flat files, needed to escape its confinement–I think we can all relate to that! Now they have smart new white frames.
This work is ready for installations of groups or a single work strikingly holding its own!
Nightscapes – 5 framed works 
done in residency in Doi Saket, Northern Thailand observing unpolluted night skies (pen on paper).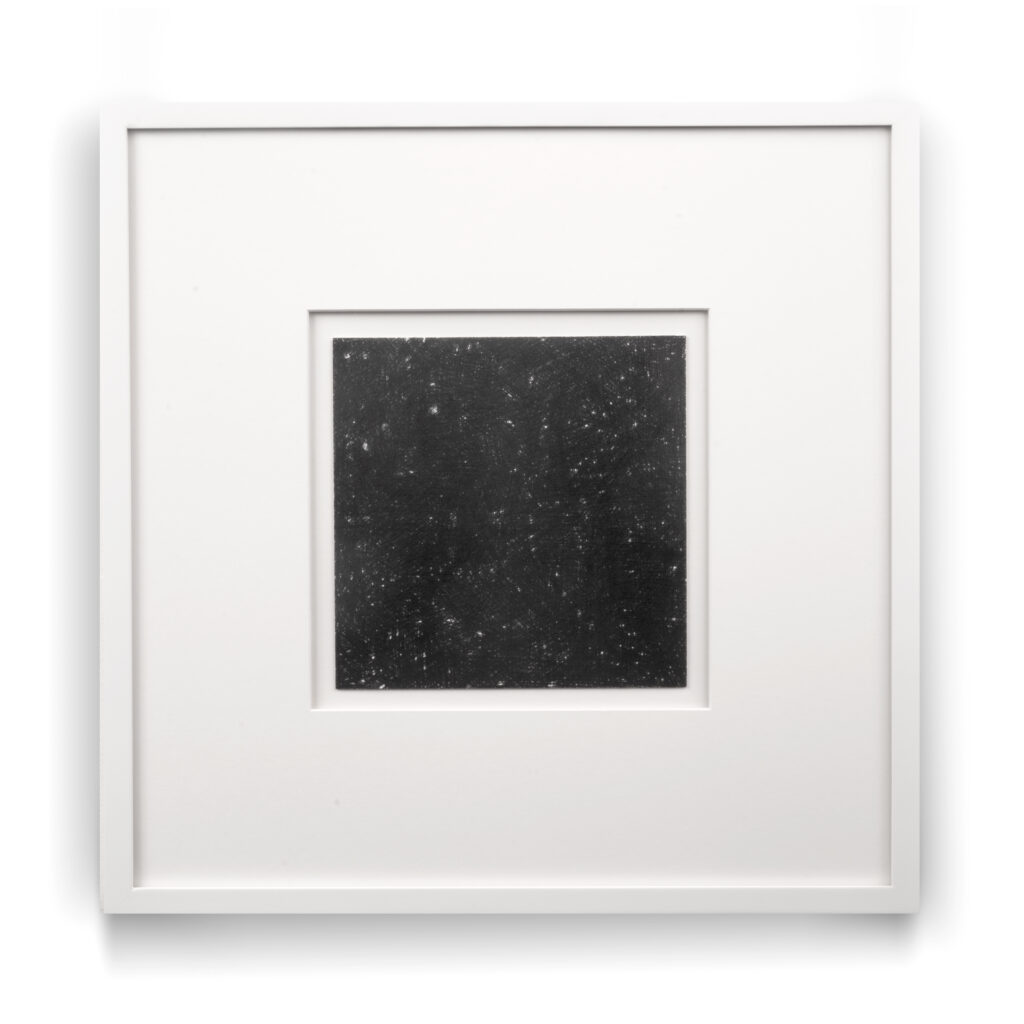 ---
Chimes – 15  and 3 larger pieces,
done in residency on a barrier island off the coast of South Carolina, US-with shimmering waters (watercolor on paper).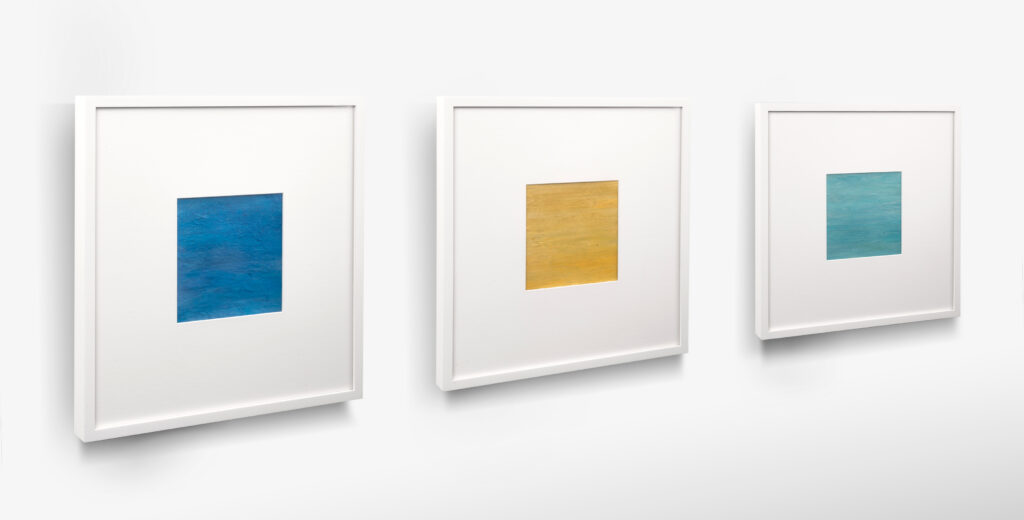 ---
Mercurial – 5  framed pieces,
Done on Flores Island, Portugal during storms at sea that prevented
boats from coming into harbor. (Ink on paper)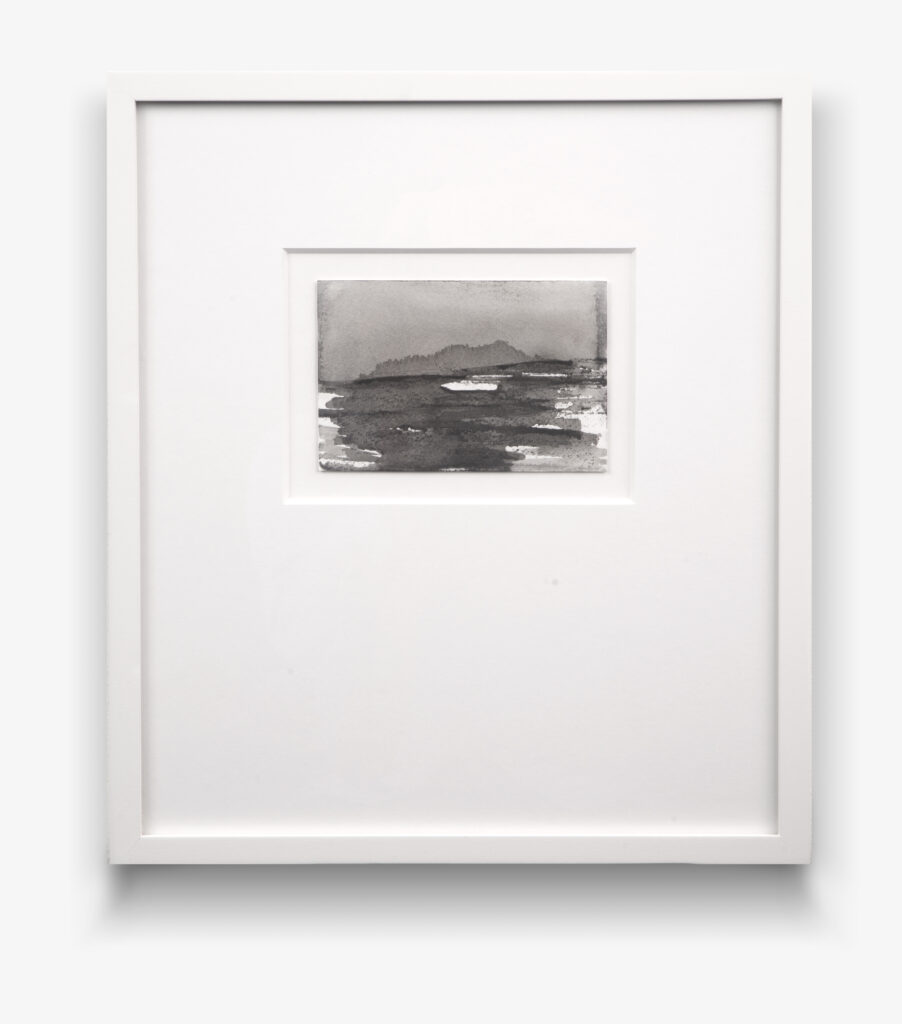 ---
Fluidity Focus  – 18 framed pieces,
Also done in residency on the Azores Island, Flores, Portugal while watching the fickle seas change hue frequently. (watercolor on paper)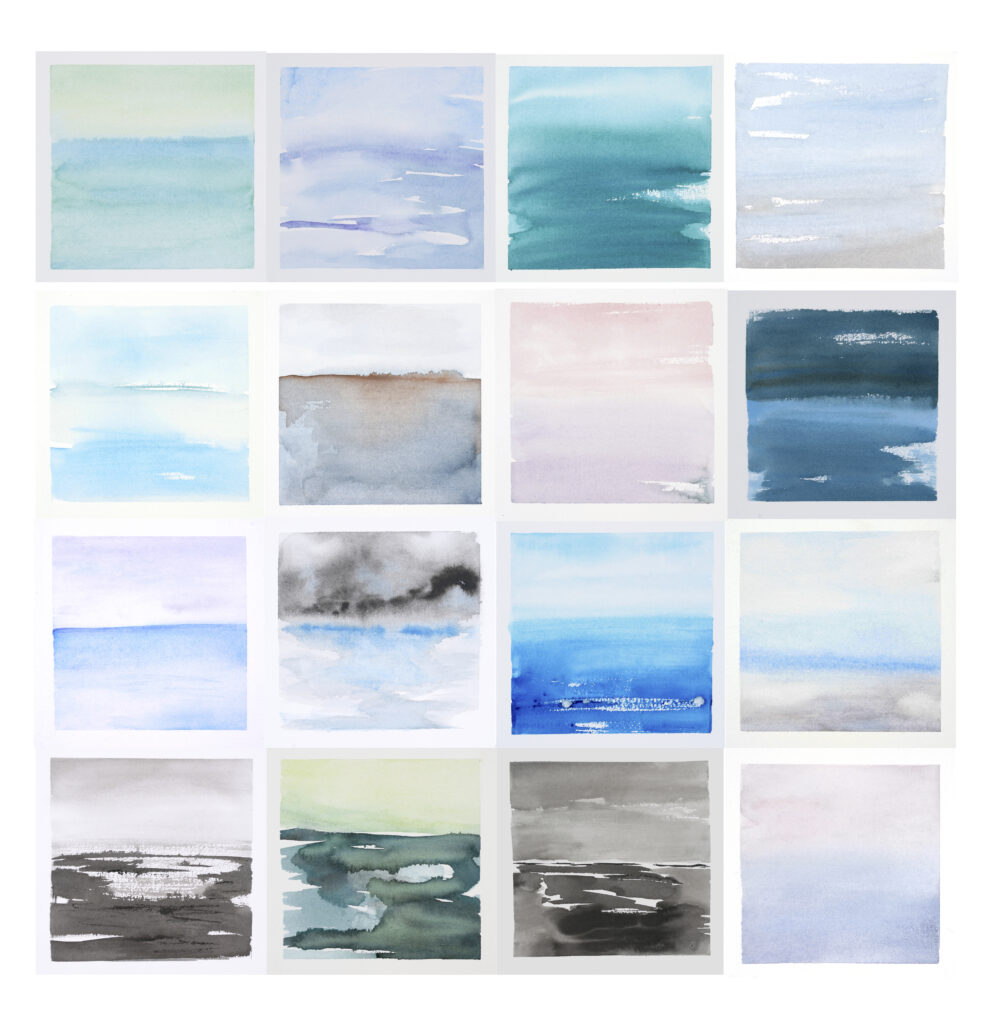 ---
May our lives continue to open and expand with caution and hope. And, may we carry forth the lessons we have learned during the pandemic trial.
– mpl