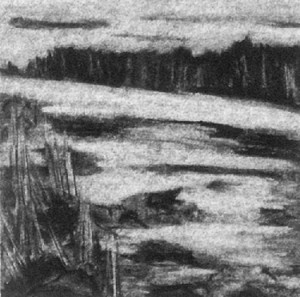 You'll be able to see my charcoal drawings at the Leich Lathrop Gallery in downtown Albuquerque beginning September 5th. 
When my husband and I drove around the U.S. in our RV called Harvey, which we did for several years, I always brought my charcoals and paper and set about recording my impressions of our travels. This has always been one of my favorite mediums because as I push and pull and smear and erase the charcoal with my hands it feels like painting.
Below is my "Artist Statement" describing how I think about and execute my drawings. I hope you're able to see the work in person.
My Drawings
I draw from my direct observation of nature and the phenomenon that surrounds it. I primarily use charcoal with erasure markings. Erasing helps me to find the dialectical tension of fidelity to the image and departure from it. Drawing is very important to me as it helps me to observe and understand my world.
The observations that I record have as much to do with how I feel, the sensations that I experience in the environment where I am drawing, as with the visual information. This self-consciousness of my sensory responses evokes memories of other times and places where I have had similar feelings. The work goes back and forth, past and present. It is the gap in-between that is the final drawing.
PS: I was also delighted to be featured on the Saatchi Online Homepage for New Paintings of the Week 8/20/13. Saatchi Online was started by the renown Saatchi Gallery in London showing terrific international artists. Ballad 4, an oil on canvas paintings and part of my Atmospheres Series was shown as well as a link to my page on their site http://www.saatchionline.com/mleis.