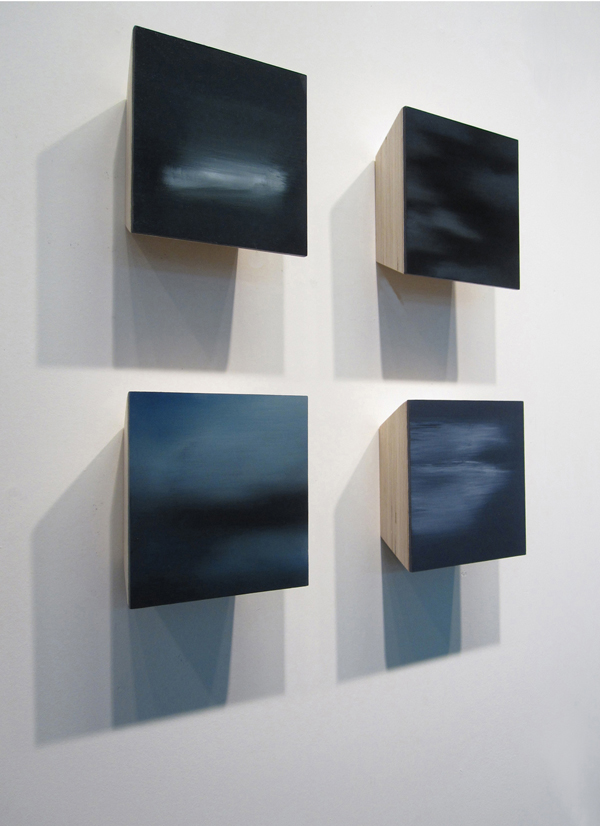 Pixels 4 x 4 Squared, was selected by Margot Norton, Curatorial Assistant at the New Museum, NYC for Expo 31, a group exhibition at b.j. spoke gallery in Huntington, NY. This work is an installation of 4 paintings each 5 x 5 x 2.5", oil on wood.
PIXELS: Black and Blue
by Marietta Patricia Leis
These paintings because of their size and simplicity looked to me as computer imaged pixels and thus their name. I've always wanted to call a group of work 'black and blue' because of the ambiguity of the title and the possible riskiness it might imply.
As I look out into seas and skies I experience the implied storms, or rough waters or the calm beneath a starry night, or a sunrise after a night of bad dreams. All that and more is hinted at in the tenor that I pick up as I experience the earth's floor and ceiling.
Then I simplify the image that fills my mind in a quick editing process as I put brush to panel. That process is so automatic to me that I'm often not aware of the translation happening.
The work is a series of comments on delicate notepaper elegantly encouraging the viewer to stop and read further.