a cyanotype exhibit at the NM Museum of Natural History and Science, Albuquerque
April 26-August 31, 2004
Cyanotypes are a magical form of photography. As a child you may have made "sunprints" or "nature prints" by placing objects on photosensitive paper and exposing it to light to produce imagery of white with a cyan blue background. Think blueprint.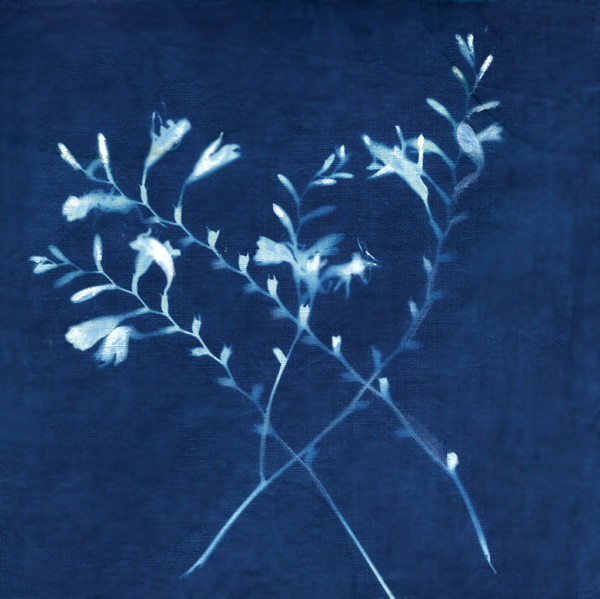 For several years I have been talking to the NM Museum of Natural History and Science in Albuquerque about doing a cyanotype exhibition. This seemed a perfect fit as cyanotypes do require a chemistry that allows an impression to record and print. The theme of the exhibit originally was flowers so we cover the natural science aspect with that and of course, the sun. I had made a series of cyanotype flowers at an Artist Residency in the Azores, Portugal a couple of years earlier.
Photographer, teacher and colleague, Betty Hahn, was instrumental in the revival of this early non-silver technique and introduced me to cyanotypes. The year I was to visit Flores (flower in Portuguese), the island in the Azores I came upon a reference to an 1843 book, British Algae: Cyanotype Impressions, by Anna Atkins, an English botanist. The book is reputed to be the first illustrated botany book http://en.wikipedia.org/wiki/Anna_Atkins.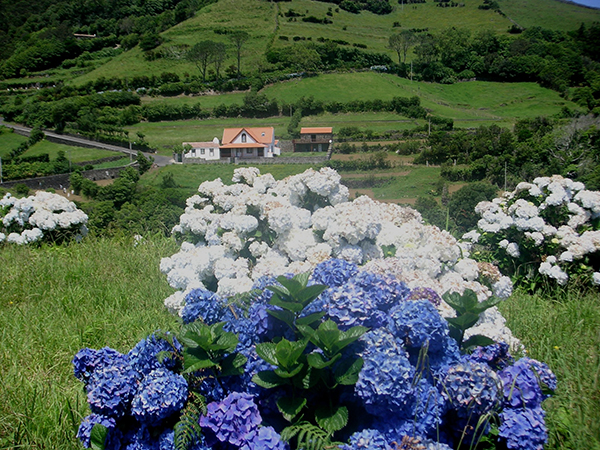 Inspired, I decided to follow Atkins' tradition and record my impressions of the wide variety of flowers on Flores making cyanotype photographs. In addition, I wanted to pay homage to my Grandmother Fiore (Italian for flower), who instilled in me her love of flowers. I planned that I would incorporate some of the photos I would take while in residency into a book.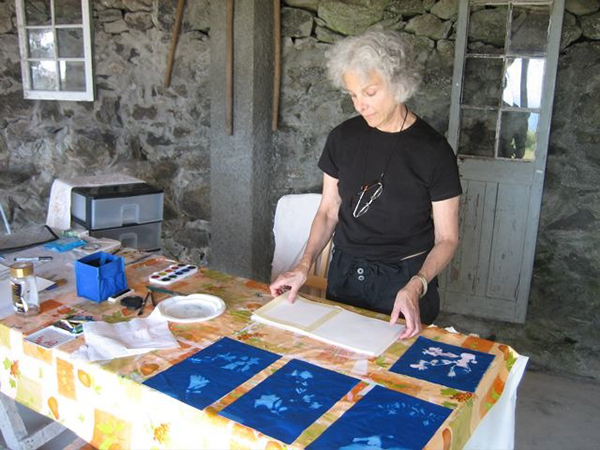 The color blue had been prominent in my paintings since 2001 and was one of the reasons I applied for this Island residency. Cyanotypes were perfect when I was working in my Flores studio, a renovated stone barn with large windows facing the Atlantic. The blue sea and sky saturated every working and non-working minute that I spent on the Island. I was in blue heaven!
I made many photographs on fabric and paper. The process fascinates me because of all the spontaneous, unexpected elements it involves. A flower placed on paper outdoors can move in the wind as it is exposed to the sun and a 'ghost' appears. If the temperature of the rinse water that 'sets' the image is not consistent the blue can intensify or fade. If the fabric or paper wrinkles, texture is added. These surprises appeal to me as they prevent the imagery from becoming too controlled. The spontaneity is a gift of the medium.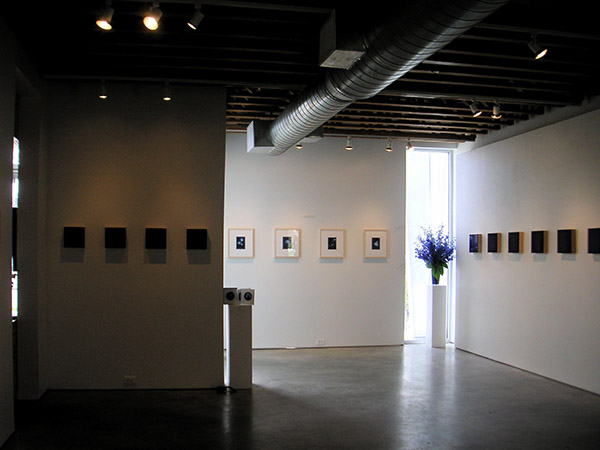 The cyanotypes further evolve in the editing decisions I make, what to keep, what to discard, how to fine-tune the images with inks and watercolors— all critical steps in expressing my artistic vision. In preparation for my book production I needed to select the cyan photos, determine size and choices of paper for the archival printing. Finally, voilà, all the magic and wonder of Flores comes alive in "Moonlit Memories" and my impressions of that special place are secured forever. This group of work was initially shown at Koelsch Gallery in Houston.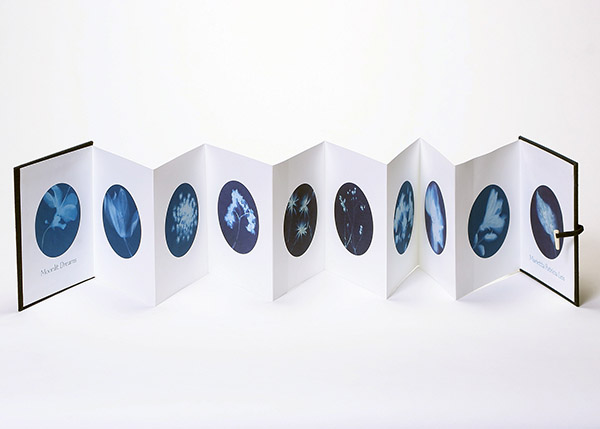 My talks with the Museum of Natural History were started, stopped and stalled as there were administrative changes. However, one thing that began to be included in the conversation is a "what if" I were also to make cyanotypes of the Museum's specimen collection. That was a titillating idea! Among my other work and exhibits I continued to use cyanotypes as a quick and easy way to record 'impressions' of the environments where I traveled, and also to have some fun!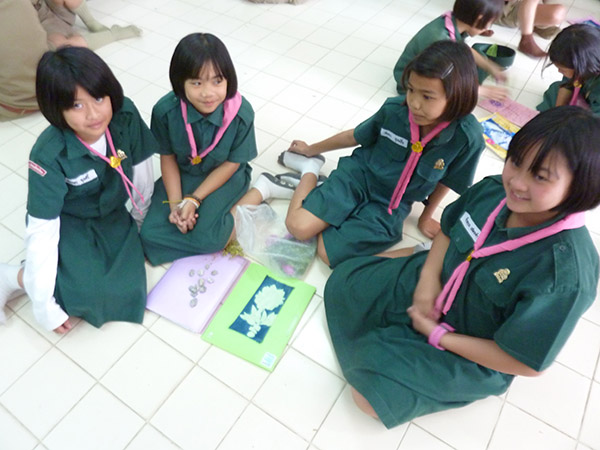 One experience I found delightful was teaching a cyanotype workshop in a school in Northern Thailand close to where I was an Artist in Residence. It was a joy for me that the 120 children were so enthusiastic and thrilled with the "art" they made. Art is a terrific way to share and communicate when there are language barriers. Then last summer  at the Ionian Center for Culture and the Arts I felt compelled to make cyanotypes using octopi, squid and shrimp for my models. The blue cyans just resonated with Kefalonia, the Greek island that is surrounded with luscious blue seas. It was very hot and the octopus was slimy and heavy but I was rewarded by its tentacles making the most wonderful sun-ray markings. So the Octo prints were exhibited in all the Octo's beauty in the lovely marble Greek gallery of the Center.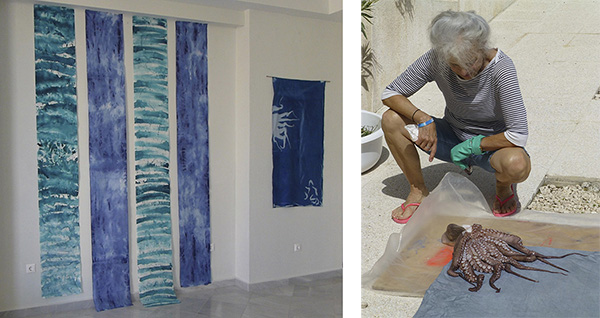 When I returned from Greece in November the Museum of Natural History and Science called to tell me that they had a slot to do the cyanotype exhibit in the spring-summer 2014. Well, I had to consider what that would entail in regard to making the cyanotypes in the unreliable winter months and also how much new work would need to be created. Remember I needed the SUN to make sunprints—well, truthfully I could use artificial light but I wanted to be true to the 'Natural History and Science' mission of the Museum. Also I needed to consider that the exhibit would inhabit a large gallery and would need to be entertaining and instructive for children and adults while resonating my cohesive artistic aesthetics—wow a tall order!
What persuaded me to move along and do what was necessary to produce an exhibit was visiting the Museum's incredible specimen room where bones, feathers, stuffed animals and much more hang out in drawers, and cabinets—an unimaginable resource that couldn't help but light my enthusiasm.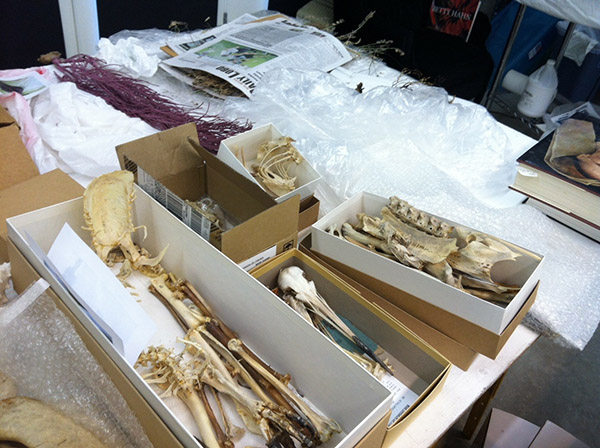 I wasn't sure how my minimal abstract penchant would manage all the rather figurative forms of the collection but as an artist I always welcome challenges. And, truthfully as the work began challenges mounted. The cloudy, cold days made each cyanotype a hit or miss event. I tested a dozen chemically treated papers to see which ones would work best and that took the month of December with very little resolved results. Then January had to be the cloudiest January I have ever experienced or maybe it was my need for sunny days that makes my biased perception. But little happened during that month except my obligation for an exhibit at an out-of-state gallery where I had to travel twice that month besides the preparation for the exhibit.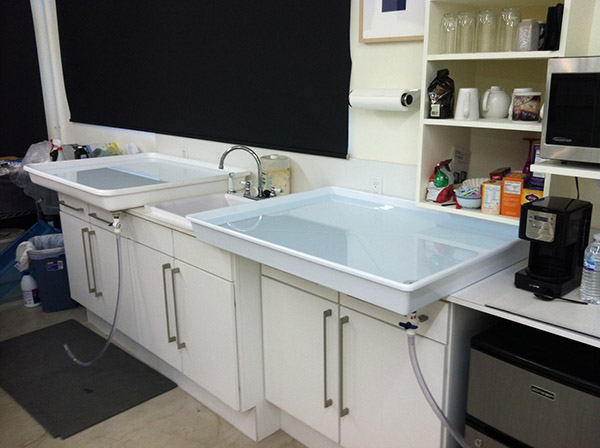 February was more productive and my assistants and I had to turn my entire studio into a large darkroom with very large rinsing pans—it felt like a laboratory and we were the mad scientists working with cadavers. So on it went working long days of preparing images and carrying them out to the sun, rinsing them, drying them and pressing them. I started to loose track of my intention as I became more robotic in the process.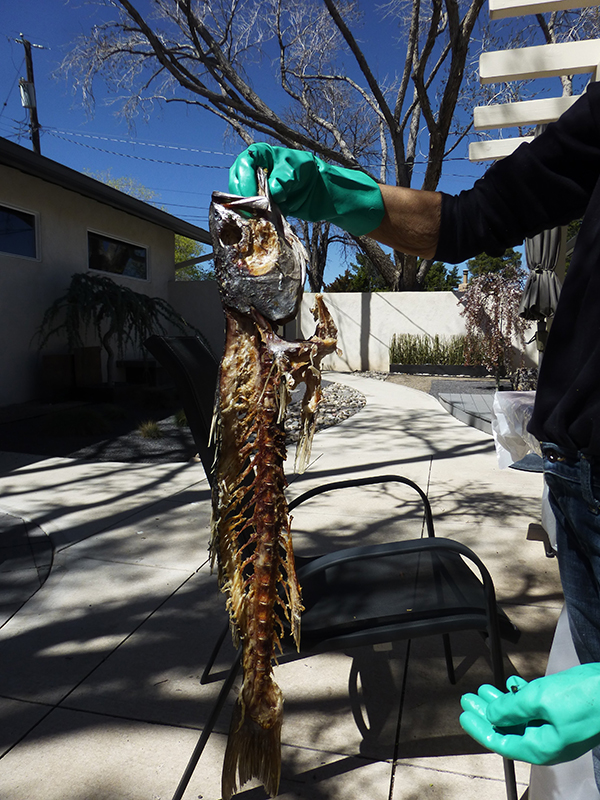 In, out, rinse, dry. So what was the vision—well it was to make work that was beautiful and inspiring and also maybe help people to see things a different way. Also I wanted kids to think 'wow maybe I can do that' and run to the gift store for kits and then home to begin their art.
The exhibit committee and I and my husband David met many times to envision the exhibit but without knowing what images would be successful we had to keep loose parameters. I should mention that along the way I enlisted David, a photographer and a great organizer to come aboard to both document the work process and help with all the things that putting together from scratch an exhibit of this size in a short time entails. Thanks David. As time unfolded some of David's photos and video would become part of the exhibit that became known around now as Nature's Blueprints.
So in spite of the usual distractions of life and other professional obligations intruding on my studio practice we persisted and somehow slowly we began to inventory the over 100 cyanotype images of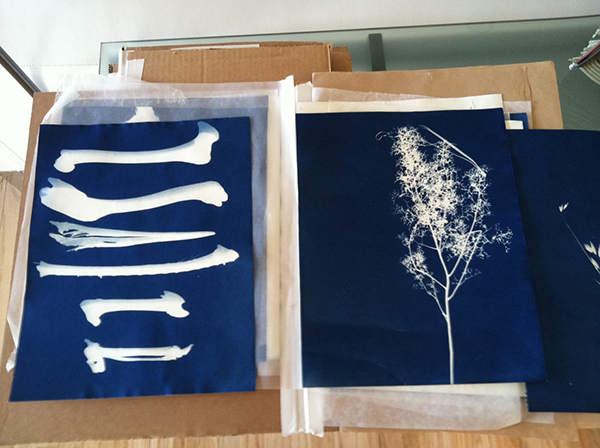 some different sizes and subject matter. Now installation ideas began to flow. Curator, Mary Anne Redding joined our Museum's team of exhibit, specimen and biology committees to plan and execute the gallery's installation. This went on simultaneously with completing all the necessary details; making inventory lists, photographing the completed work, preparing the delivery of work, framing, writing text plates, artist statement, publicity, press releases, confirming dates for openings and workshops et al…
The exhibit dates are set—the opening is settled and we hope to see you April 26-August 31 wandering through Nature's Blueprints. We're not disclosing any more here because we hope to meet you there at the Artist Opening May 4, 2-4 for the final results. I hope you enjoy it!
Click here to watch a video of the making of cyanotypes.