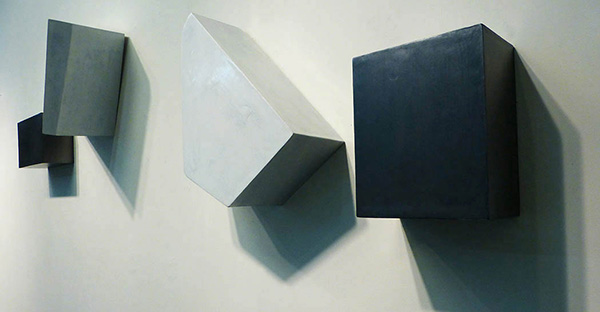 Gallery Sonja Roesch, Houston will be the first place to exhibit a few paintings inspired by my expedition to the Antarctic. My graphite and white shaped paintings were inspired by the glaciers and the black continent. Also showing will be my Japanese ink scrolls and artist book from my recent Greece Artist Residency as well as Black Matter oil paintings, ink drawings and watercolors—a survey of exciting recent work for your viewing. I hope you can be there as I would love to introduce you to this experience. The other artist showing with me, Ruth Pastine, will have her lovely pastel drawings on exhibit.
Opening Reception of Convergence: Saturday, January 18, 2014, 5 – 7pm
Exhibition closes March 1, 2014
For more information call 713.659.5424
www.gallerysonjaroesch.com
2309 Caroline Street
Houston, TX 77004
Read from the gallery's newsletter below:
Convergence, work by Marietta Patricia Leis and Ruth Pastine 

Gallery Sonja Roesch is pleased to announce an exhibition featuring works by Marietta Patricia Leis and Ruth Pastine. The exhibition will open January 18, 2014, and will close March 1, 2014.
Marietta Patricia Leis will be showing luminous oil paintings and work on paper including ink drawings of night skies, reductive landscape watercolors and Japanese ink paintings on Japanese washi paper. Inspired by the translucent light, blue skies and sea, Leis initiated her work with Japanese ink and paper during an artist residency with the Valparaiso Foundation on Spanish Mediterranean. Leis' most recent artist residency on a Greek island at the Ionian Center for the Arts expanded her exploration of the medium to 10-foot long scrolls. The process allows a very short window of time to paint with the inks as the color transfuses with the paper.
Drawing on her extensive travel experience and her deep encounters with nature, Leis' oil paintings are rendered with a minimalist's palette through nuanced layers of textures, subtle gradations of color and luminous glazes. The late New York Times critic William Zimmer noted that Leis' paintings follow in the abstract sublime tradition of Mark Rothko and Barnett Newman. Her work investigates the phenomenon of color, which is ingrained in our everyday experiences. Leis' ten-year survey in 2013 prompted Huffington Post critic Peter Frank to write, "Leis has translated the essences of places into non-objective icons that extol and focus the divine magic of such places. These are more than mere delights; they are quietly ecstatic revelations."
Accompanying Leis' tranquil ink and watercolors, the exhibition will also feature pastel works on paper from Ruth Pastine. Focused intently on the process of working serially, Pastine creates works using complementary color systems providing investigation into the phenomenological and perceptual experience of color, light, and temperature. Although the appearance of brushwork remains almost indiscernible, the eye detects the vitality of the hand informing the nuanced shifting of color and light and engaging the viewer in the present tense of discovery.
Marietta Patricia Leis has been awarded numerous Artist Residencies throughout the world, which have facilitated her deep immersion into diverse cultures and environments. Her work is shown internationally and is in many public collections. Leis has lived and worked in New York and Los Angeles, has a MFA from the University of New Mexico and currently lives in Albuquerque. Her multimedia touring exhibition, GREEN, premiered in Fort Worth in 2012 and has since shown in 6 Venues including currently the Las Cruces Art Museum (NM).
Pastine was born and raised in New York City and currently lives and works in Ojai, California. She received her B.F.A. from The Cooper Union for the Advancement of Science and Art, New York, NY in painting and art history and her M.F.A. from Hunter College of the City University of New York in painting, critical theory, and color theory and her work is exhibited and collected internationally.