Jeanne Brasile, Director of Seton Hall University's Walsh Gallery, and I had been in dialogue about my art over a couple of years and how to present my work in an exhibition. The process of watching her assimilate my work and paring down all the facets of my output (paintings, sculptures, work on paper, et al.) to a cohesive concept was observing the mastery of a curator's skill. As a result she luckily became the curator of my exhibition "Earthly Pleasures" showing at the Walsh Gallery until April 5, 2013 (pictured below).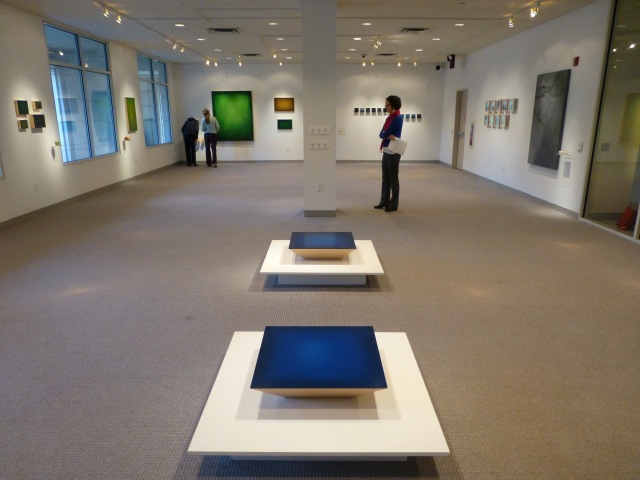 It is a wonderful thing for me to witness a curator design an exhibit of my work that executes their vision. Just less than a year ago Jeanne commented that the exhibit she envisioned would revolve around my travels and observations of the natural worlds I experienced, using the colors they presented as was nurtured by my Grandmother many years earlier. Brasile familiarized herself with my oeuvre so that it became possible for her to choose the work that supported her idea, writing the names of the pieces on the gallery's blueprint with the installation designs she envisioned. This she confidently did by email.
And the exhibit was executed exactly as Jeanne conceived it six months before receiving the work in hand. The clarity with which she visualized her intentions and the superb fulfillment of those intentions fill me with admiration, awe and so much respect for Jeanne and for curators. It is a delight for me to walk into the gallery and recognize a "story" told so well with my art and the curator's understanding of my issues. Thanks Jeanne Brasile!
I think you will gain an understanding of Jeanne's curatorial process if you read Jeanne's statement below, accompanied by photographs of the exhibit "Earthly Pleasures" by David Vogel: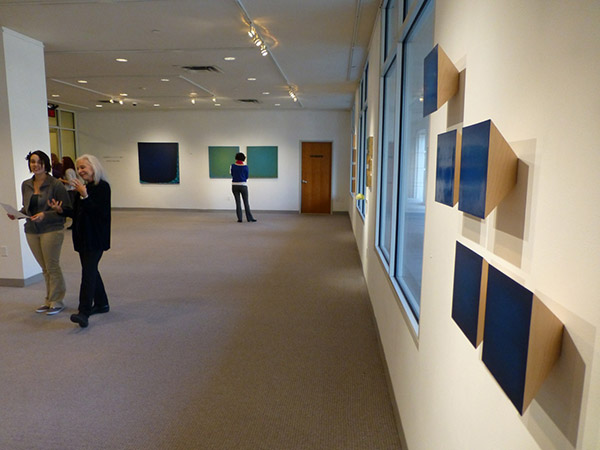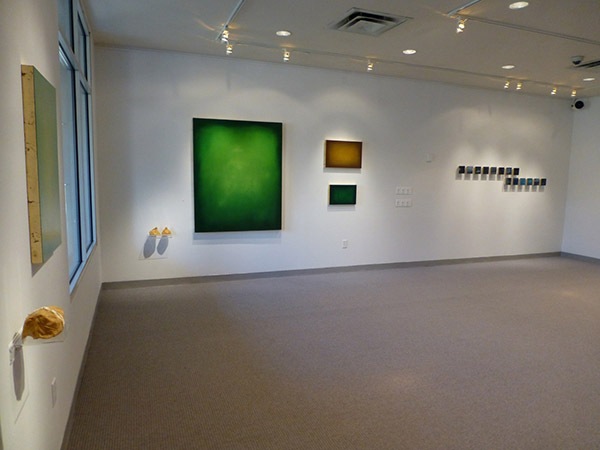 Marietta Patricia Leis' lush, saturated color field paintings function as fenestrations into an unconfined world of natural forms. The oil paintings are, in part, evocative of landscapes, seascapes, plant forms, weather patterns or micro-organisms and can be concomitantly seen as many of these phenomena. Nuances of color and light palpably depict a range of imagery that encapsulates a life of experience, serving as complex memory portraits that tap into emotions and feelings. For Leis, the paintings are meditations on specific places and times in her life.
The earliest of these memories date to the time she spent with her maternal grandmother, Ermelinda Fiore. Ermelinda's world was one of scents and colors, a lasting impression on Leis' young mind. Leis recalls accompanying her grandmother to the garden, spending hours listening to her as she described the flowers and their various attributes. Making their way back to the house, they would then arrange the flowers into bouquets, an art form in her grandmother's home. The kitchen was similarly filled with indulgences of taste, smell and creativity. Cooking was also a form of creative expression for her grandmother and provided another realm of aromas and colors amid a backdrop of floral arrangements from the garden.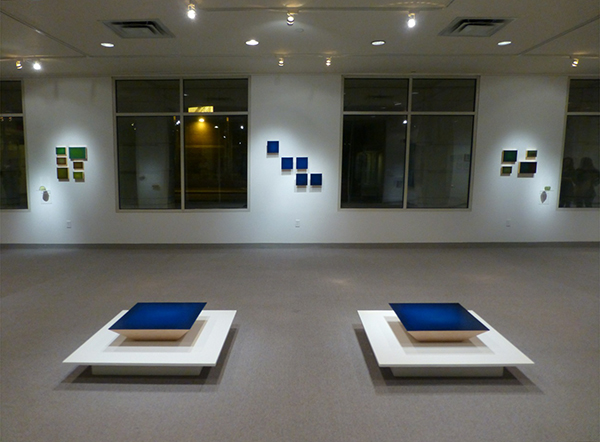 Leis' more recent influences are derived from her extensive travels, one of the most seminal being a trip to Italy in 1979. There she tapped deeper into her Italian heritage and absorbed a new range of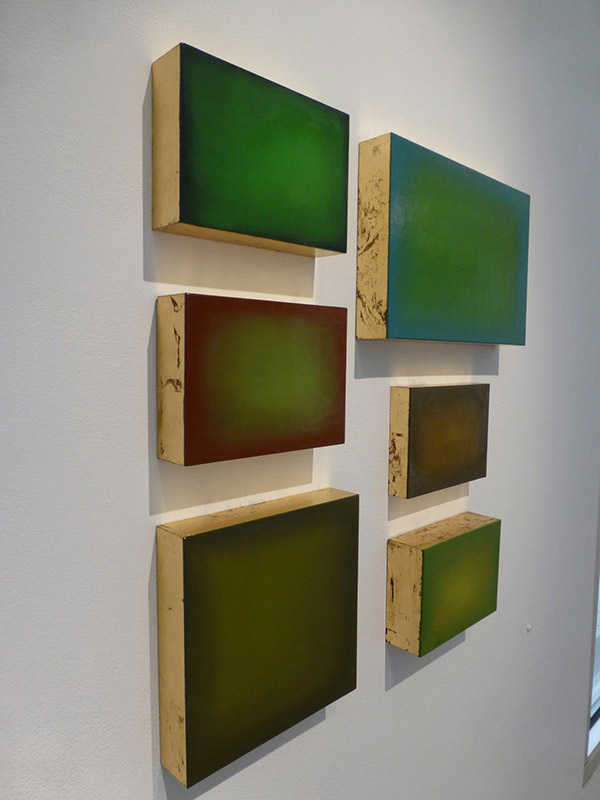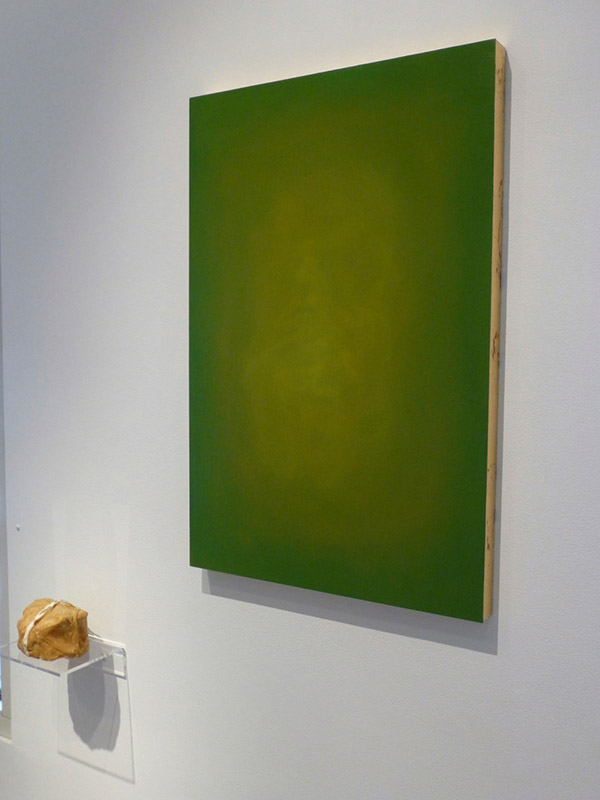 colors and influences. After an artist residency in Crater Lake, Oregon, Leis' painting took on new resonance. She began to travel more widely to such exotic locations as Thailand, Greece, the Antarctic, Finland, Spain and Portugal. Having experienced a variety of locales, each with their own particular light and color conditions, her paintings took on the task of expressing the bounty of nature and its variety of nuances.
The multiplicity of blue shades encompassed in the sky and water became one of her favorite muses. This can be seen most clearly in works like Barrier Rift I & II, Breathless 1-6, and Quietness. Depictions of atmospheric conditions are expressed in Pixels, which indicate a variety of tones and colors as well as the formless structures of fog and light. But Leis' work always draws upon her early years back in New Jersey with her grandmother. The Seed paintings offer us a variety of green, brown and golden hues culled from her "nonna's" garden. The sheer variety of colors, light conditions, hues, tones and saturations attributed to Leis' work reveals an artist that is concerned with looking at, meditating on, luxuriating in the bounty of nature and all its endless permutations. In Earthly Pleasures we enter a world that Leis constructs for us from memory. It is the absence of a very specific, figurative language that leaves us with occasion to assemble memories borne of our own experiences. Leis' ability to reference her own past and present, while bridging that of her audience makes her painting resonate so profoundly. In every work we sense the artist's gratitude and awe in the bounty of nature and we, too, can feel it intensely.
– Jeanne Brasile, Curator