The Silent Road, Acrylic on Tyvek™


Personal Structures
An Exhibition
presented by
The European Cultural Centre & the GAA Foundation
2019 Venice Biennale
Preview: May 9 – 10
Exhibit: May 11 – November 24
Palazzo Mora, rm #218, Strada Nova

---
Leis' artist statement for The Silent Road
The Silent Road
Marietta Patricia Leis
The Silent Road is a dialogue between painting and sculpture. It is a road that leads in two directions, reaching upward toward the ancient beamed ceiling of the Palazzo Mora and winding downward to its staircase landing. The Silent Road was inspired by my time in Iceland during the dark months of the long Icelandic winter. The treeless, volcanic, landscape revealed the earth's curved horizon, confronting me with a stark image of all that is infinite—both visually and metaphorically. My acute sense of this fascinating and haunting place provided fertile ground for germination of The Silent Road.
I have always made art using a variety of mediums, choosing those that best serve and amplify my intentions. For The Silent Road, graphite painted on Tyvek ™ (a paper-like plastic sheeting used to insulate houses) evoked the shimmering darkness of Iceland's volcanic rock.  I hand burnished the graphite until it radiated that luster. Thus, the Tyvek ™ is magically transformed, as old traditions meet modern technologies on The Silent Road.
My handwork has traced every inch of surface on The Silent Road, marking a path and leaving a record of my artist's journey for others to follow. The Road's reductive surface texture offers hidden complexities for the viewer to ferret out—an opportunity to engage with the work without straining to understand it—simply traveling The Road with me for a journey in silent contemplation.
In today's noisy world, we can become distracted, numb to our deepest natures. The road to authenticity is by its very nature traveled in solitude. It is an internal road that, with patience, can lead deep into the core of our being. As we each embark on the journey to this rich and fertile place, we can discover a common thread of the shared humanity that binds us.
My intention is for my art to be palpable, transmitting a sensation of adventure, beauty and peace. I invite you to travel the undulating Silent Road—welcoming your own perceptions and experiences.

Photographic reference work – a frozen silent road from Leis' time in Iceland
---
Backstory and process
During my career I have found that professional relationships as well as the resulting exhibitions, articles, or residencies take patience and a maturation period—this one seven years! The career aspect of an artist's life echoes, in part, the necessary maturation of the art-making process itself.
The Venice opportunity is a prime example. My first contact with the Global Arts Affairs Foundation that is sponsoring my work at Venice was in 2012. A Dutch artist Rene Rietmeyer, whose work I very much admire, was featured in an art magazine that told of his exhibiting during the Venice Biennale with GAA. Because GAA exhibited the work of Rene, who has a like sensibility to my own, I contacted them to learn more about their organization. And now all these years later my art is in their exhibition, Personal Structures, during this year's Venice Biennial.
The Silent Road evolved over a one and half year period. GAA and I explored several locations in the Piazza Bembo and Mora until I selected the one that I felt gave me the most opportunity and challenges. Then there were several sketches with that location in mind. These always told of the 'road' but varied in size and form until one felt right for a beginning point. Once I had that form in mind I researched materials eventually moving away from paper to Tyvek™ for durability. Prototypes large and small were made to test the graphite and the burnishing, how to keep the backside clean with the process of dirty burnishing-how the Tyvek™would drape and to also conclude the exact dimensions for the piece.
The slow and laborious but zen-joyful execution of painting and burnishing the 60' x 34" piece took several months and culminated in a test hanging at a local theatre (thanks Highland and NDI). By then I had a solid team of my photographer-assistant, Stefan Jennings Batista, my colleague in arms, Heidi Pollard, the sculptor and installer, Ian Jones and my husband David an all-purpose helper and videographer—who all contributed to the success of the trial installation. The wonder of resulting piece exceeded my sketch! Listening to the work itself and not being catholic about the sketch led to better possibilities.
Afterwards installation instructions were written and the packing and shipping commenced. Voilà it now enters the auspices of the Venice Biennale 2019.
---
ENGRAINED: ODE TO TREES exhibited at WNMU
---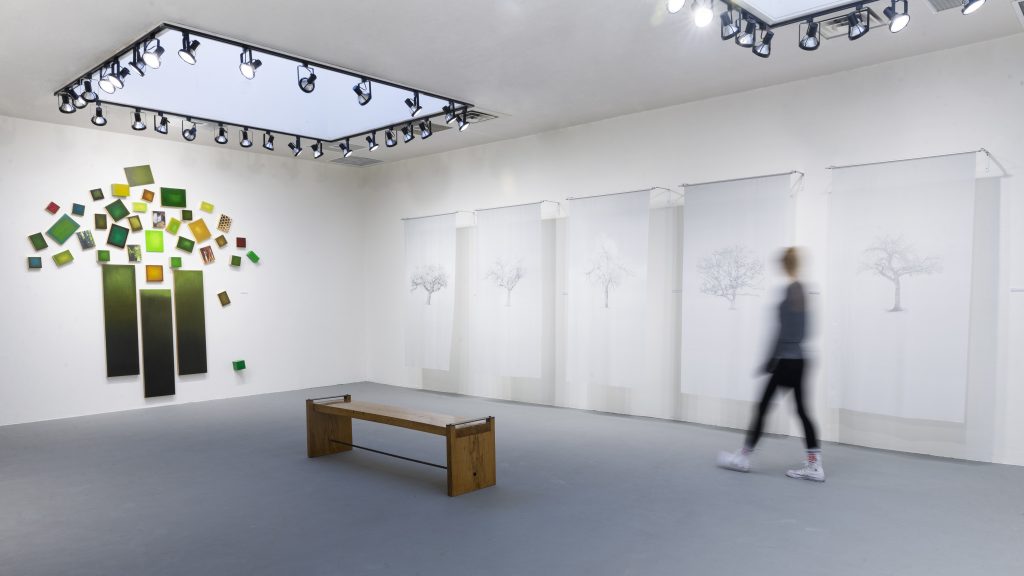 Marietta's multimedia solo show Engrained: Ode to Trees exhibited though February in the McCray Gallery at Western New Mexico University as part of the Milner Women in the Arts Lecture Series.