Thirty-two multimedia works from my exhibit, GREEN: a paradox of abundance and scarcity will be shown in the exhibition, Going Green II at Crossing Art.  Crossing Art will be showing seven artists in this exhibit June 16th – August 16th at their wonderful gallery space in Queens, NY. My work will include monochromatic paintings, poetry texts plates, a video, and hollow, pseudo-food beeswax sculptures that convey the paradox of an unequal world. I will be attending the opening reception 3-6 pm on the 16th.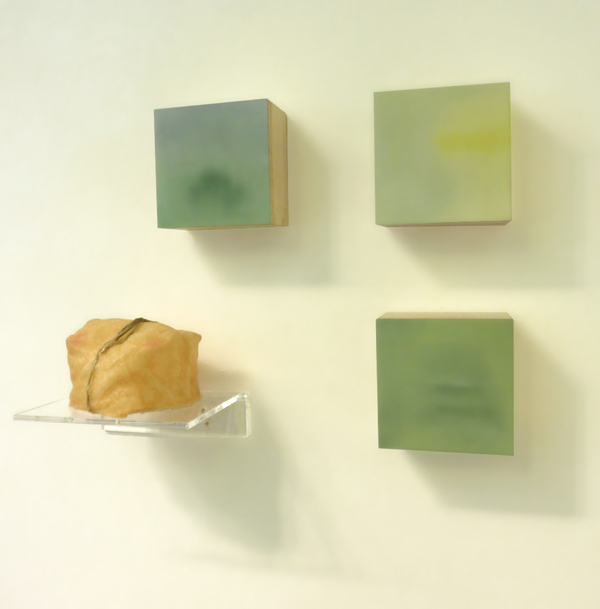 Insights 1-3, oil/wood, 5 x 5 x 3″, Vapors, Latex on Acrylic Shelf, 3.5 x 4 x 4″
Going Green II is an annual exhibition that supports not only an eco-friendly environment but raises issues about the current trends and future fate of urban landscapes. I'm very excited to be part of this year's, Going Green II, the second annual group exhibition of local and international artists, will be on view at Crossing Art in conjunction with this year's QAX. The Queens Art Express is a spring arts festival of performance, events, exhibitions, and great places to eat in the vibrant cultural communities of Queens NY — along the route of the No. 7 train and beyond.