A month in the charming Fairhope, Alabama as a Writer-in-Residence sponsored by the Fairhope Center for the Writing Arts importantly gave me time to write and also an opportunity to experience the Deep South. I am grateful for both as our ongoing downsizing move to an apartment and office in Santa Fe has stretch us and we needed a break and time to work.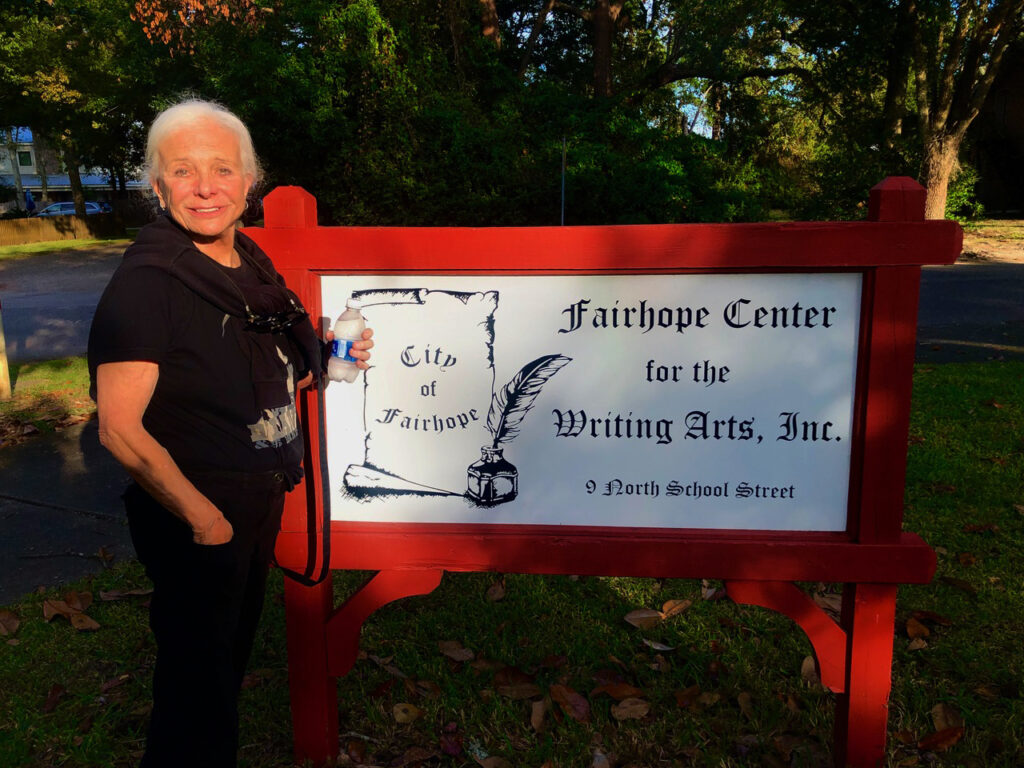 The scenic setting of Fairhope on Mobile Bay hydrated my desert soul and provided many glorious sunsets as well as magnificent cloud formations. The downtown Pier that I frequented on my walks draws people for exercise and fishing. Very serious fishermen staking out their territory for several hours with chairs, radios, food and several fishing poles.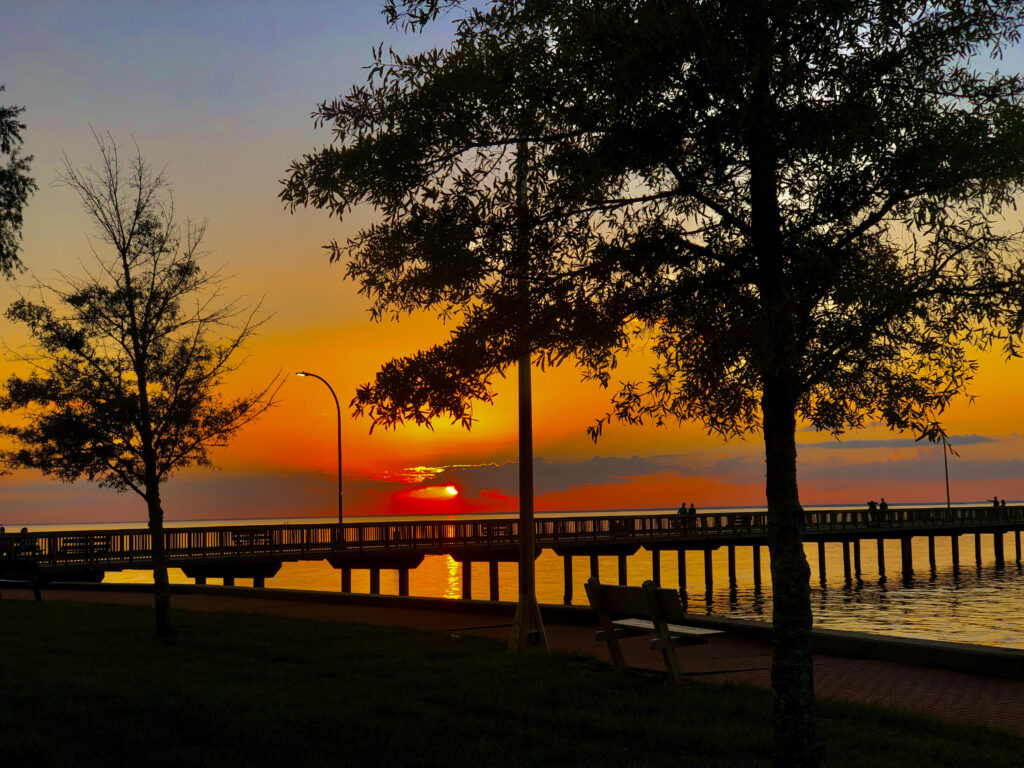 As a tree lover I was treated with glorious Magnolia and abundant Live Oak trees always ready to amaze me with their large branches bowing low over the streets and lawns and the big old gnarled trunks of sculptural beauty.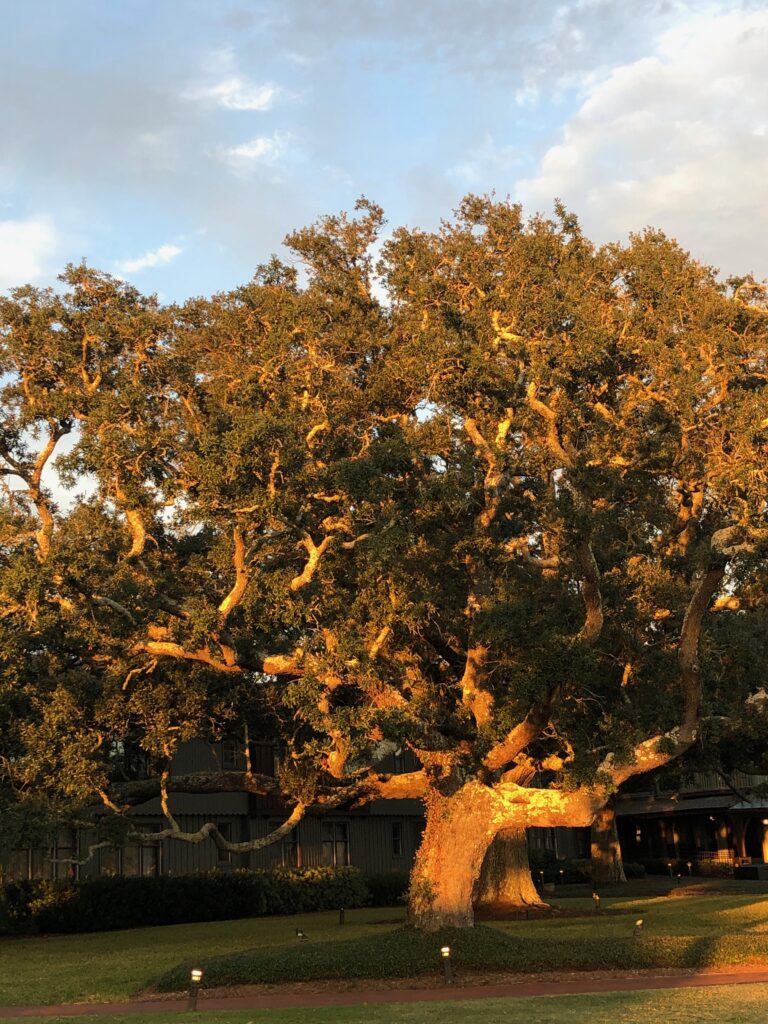 The Center provided me and my husband with the quaint Wolff Cottage downtown and the library was conveniently right behind the cottage. Books of other authors who had been Residents graced the bookshelves that lined the living room walls. My sweet writing office had abundant natural light and an inviting vibe and my hours spent there writing, editing and formatting my new poetry book-to-be were hours of peace and grace.
Being downtown we could easily walk to meet any of our needs and find lots of local entertainment. Good food was at the restaurants and coffee shops. Oysters and fresh fish were luckily in abundance. I found a used clothing store where I bought a sweater as the temperatures dropped our second week there. The bookstores are a necessity in this literary town and there was one bookstore that satisfied my Xmas gift buying needs!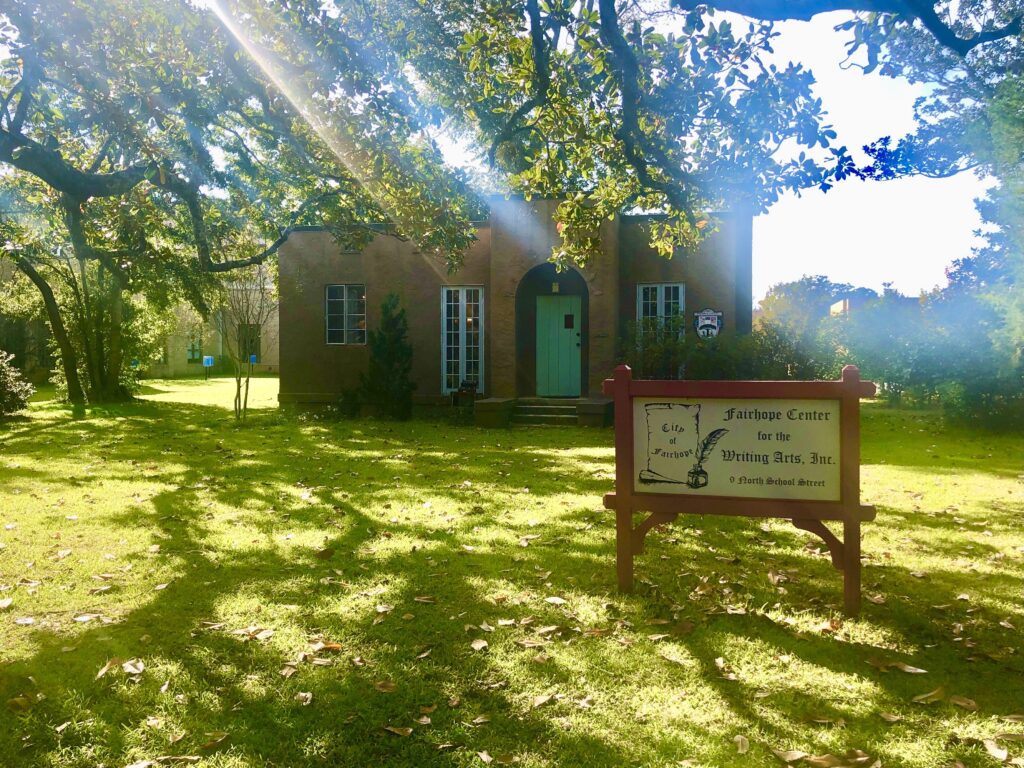 So let me back up and tell you a little history of this unique town; a group of reformers from the Northeast US established an experimental utopian community in Fairhope in 1894.They hoped that the town had a 'fair hope' of succeeding. It was developed as a 'single tax' colony that owned the land and homeowners paid an annual tax that provided the public amenities. These ideals attracted artists, writers and intellectuals. Among the unique things about Fairhope is the establishment of the progressive School of Organic Education by the educator, Marietta Johnson that still exists!  And, luckily we were there for the weekend of the film festival and were able to indulge in our favorite pastime.
The people who are involved with the Center were all gracious and supportive of my work and respectful of my time but we gladly accepted their invitations to enjoy the art openings and incredible dinner treats. We found the entire town to exude Southern charm with eye contact and friendly greetings as we passed in the streets.Fortunately, I was asked to attend the book club that sponsored my Residency and it was so heartwarming to experience this wonderful group of accomplished and curious women who welcomed my work into their hearts. What I loved was bearing witness to the relationships that these women had woven with one another over the years and over many books and discussions.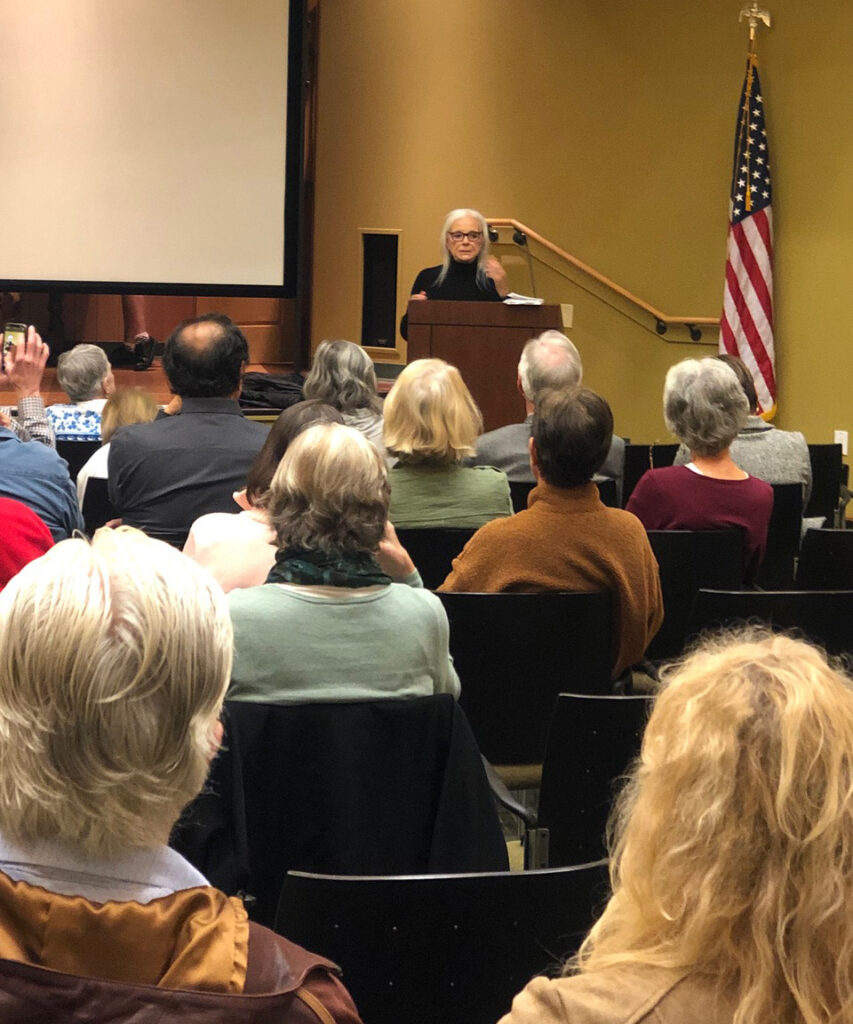 I was also asked to do a public event at the library where I was able to talk about my work and read my poetry. What I noted was that I allowed myself to be more spontaneous and vulnerable both talking about my life and work but also in the poetry I had been writing in Fairhope. Maybe it was the accepting and supportive environment, maybe it was my age and maturity but I take pride in knowing that I still had the ability to grow and dare!
So in Fairhope I wrote, edited and laid out a new book of 50+ poems. Now back in New Mexico I will integrate some of my art to play off the words. In time this book will be published and I hope that you will let me know your reflections. Words and art are communication — maybe written or painted in solitude but always meant to be received by the viewer or reader. I look forward to the dialogue.