Prolific author and arts writer Lucy R. Lippard contributed a deep and insightful essay for my 1994-1998 touring exhibition, The Marietta Robusti Tintoretto Story. I am honored to share Lucy's essay with you below. The work celebrates the life of a near forgotten woman artist. Two paintings from this series are included in the Museo Italo Americano's 40th Anniversary Permanent Collection Exhibit, on display until January in San Francisco.
---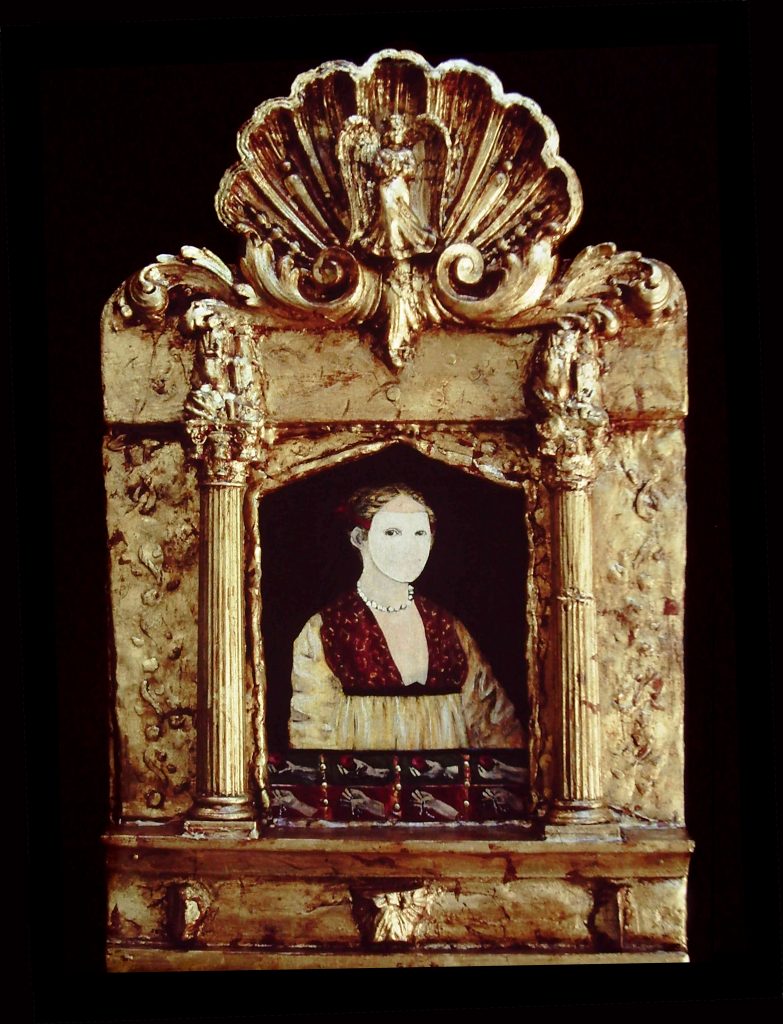 A Legacy Framed
Commentary by Lucy R. Lippard *
Marietta Leis is reframing the life of Marietta Robusti Tintoretto, who died 400 years ago. She does this literally by making ornate gold frames an integral part of the work; and she does it figuratively, creating a series of metaphors for today's women artists.
Leis weaves invisible references to her own life with more visible references to that of Marietta Tintoretto. The frames are cast with significant personal belongings, and she was attracted to the Renaissance artist because Marietta was also her mother's name, and her mother had decided not to seek a career in the arts. Thus, with the aid of a feminist consciousness, a classic 20th-century woman's story was contrasted with the total support that Tintoretto received from her famous father who dressed her in boy's clothing, taught her all he knew, and was delighted by her success as a portrait painter. Even as a married woman, she stayed under her father's roof (and Leis suggests that the father-daughter bonds were so strong that Marietta never found her own voice). Yet no sooner had she died in childbirth at the age of thirty, Tintoretto's work began to be forgotten, until today scholars definitively attribute only one painting to her.
This is precisely why women artists have to think seriously about "posterity"; it is why Judy Chicago is making such an effort to have her feminist icon—The Dinner Party, permanently housed; it is why so many women artists look anxiously to museums to care for their work. It is, above all, why we know so little about our feminist art history. For centuries women artists' work has been disappearing, sometimes beneath better-known male names. It is already possible to see the history of the most recent wave of feminist art (beginning in 1969-70) being hidden, forgotten, and rewritten by those who were not there.
Leis's exhibition of lyrical, painstaking homages to another Marietta brings these issues to the foreground. At the same time, her works serve as bridges from the sense of formal beauty we inherit from the Italian painting tradition to today's feminist investigations of opulence and reclamation. Even as their loving detail makes a point of scale, and their fragmentation makes a point of history, the very weight of these small works belie their size. They join Chicago's Great Ladies, May Steven's monumental Artemesia Gentileschi, and Miriam Schapiro's homages to Mary Cassatt and other foremothers to whom all feminists must pledge memory, lest our contemporaries also be lost. These elegant frames protect both the art of Marietta Tintoretto and the art of Marietta Leis.
* Written for the brochure for the exhibition Excerpts from the series: The Marietta Robusti Tintoretto Story at the Jonson Gallery of the University of New Mexico, Albuquerque.